You know I love a dress with a bit of interest and drama. If you have been hanging with me for awhile, you also know I default to vintage and retro patterns. It takes a something special for me to switch it up.  I recently stumbled upon the Toni Designer Dress by Style Arc. I love the details of the high collar, side drapes, and the side pockets.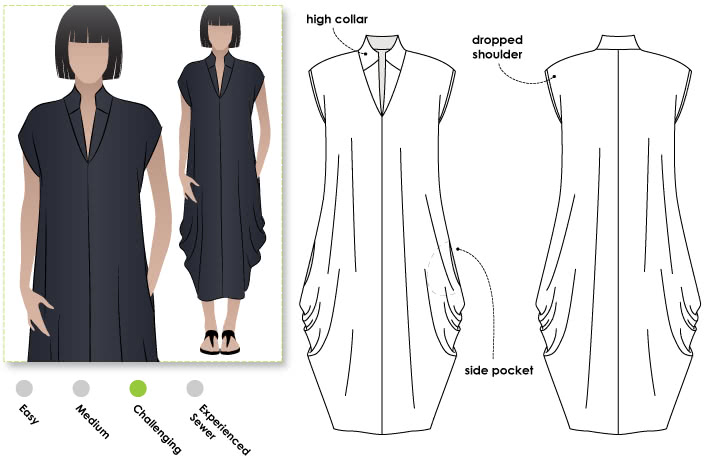 This pattern has been out for a minute so I searched other examples for inspiration. I liked the structure of those made with woven fabrics. For my first version, I chose, this 
Lake Heather Hemp Chambray
 from Nature's Fabric. It is a hemp, recycled polyester and spandex blend.  
This is my first time sewing a Style Arc pattern. This dress is classified as "Challenging" largely because of the collar construction. I however, found the cutting lines to be a bit tricky. I followed the colored line for my size, but there were other markings on the body of the dress that were not clear to me. 
In the end, I did not stress it because that part was intuitive and I knew it would come together. 
The collar instructions were clear with photos, but the rest of the instructions could have benefitted with some more. I am a visual learner, so showing me what should happen is helpful.  The use of "facing" for interfacing and "facing" for right side of the fabric was confusing for a moment. In the end, it all worked out and I am happy with the finished dress.
The collar can be flipped down,
or worn turned up. 
The sizing is generous and there is a lot of ease. I cut based on my bust, but should have sized down by one size for a woven or two for a knit. I ended up removing about six inches all around.
The pattern suggested adding weights to the inside point side seams to help the draping. I chose not to and just let the fabric do what it will.
There were a few hiccups in making this dress, but it was worth it. I am glad I tried this new to me pattern company. This feels like a cool art teacher dress and I love it!
Happy sewing,
Bianca